6 Awful Company Logos: Things to Avoid When Making Your Own
Creating a high-quality logo might not be your prerogative when starting an online business, but at some point, you will need to have one.
A quality logo can make all the difference between a good company and a successful one.
However, taking just anything for a logo won't do any good.
I have prepared a list of awful logos to back my words.
However, this article will be virtually empty if it were just for bad examples.
I intended it to be as useful as possible.
So these examples are accompanied by detailed analysis and tips on how to avoid the mistakes in designing a logo for your company.
At the end of the article, I'll leave a bonus – a list of design tools and logo creators that can help you make a logo design in minutes.
Enough talk, let's get straight to business.
1 – Un-unique/plagiarism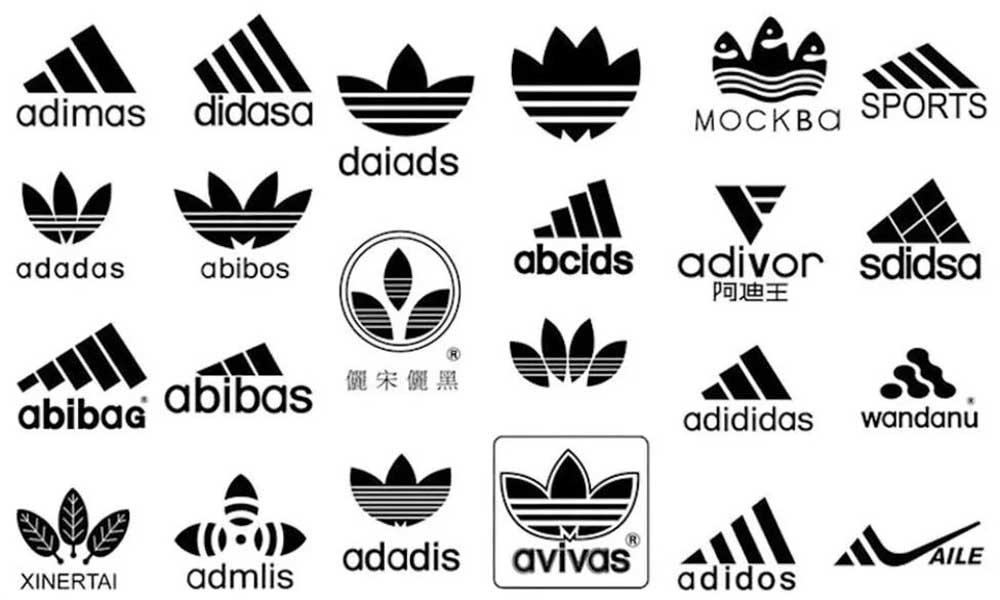 All those are fake Adidas logos, apparently.
This kind of logo creation will never do your company any good.
Some of the logo examples are not even qualified as plagiarism per se, but neither are they unique.
Thus, they have nothing to do with brand identity.
To my mind, the graphic designers who created them intended to steal some of Adidas's fame.
I bet it didn't work. If anything, they could only add to the real brand's popularity.
Tips based on this example:
Get inspired by famous brands logos, try to choose the companies that do business similar to yours. This is a great way to learn which techniques work in your target audience.
When doing the research, notice the ideas and methods rather than the shapes and colours.
Design company logo with the best ideas in mind, avoiding plagiarism.
2 – Too many details/unscalable
This logo surely does reflect what the purpose of this organisation is.
However, when making your own custom logo, try not to squeeze everything you have to say about your company in one tiny place.
Just imagine how it would look on a business card!
After all, you will have to provide some vital information and such an overly detailed logo will shift your users' attention.
You don't want the logo to grab all the attention.
If you think it's cool that the logo is so unique and outstanding, especially when it's displayed among other logos, you're wrong.
It should stand out elegantly, and not because it's the ugliest one.
Tips based on this example:
The logo for your business should be simple and elegant; you should avoid too many details and too many bright colours.
It should be part of your marketing strategy, not its sole part. Don't try and reflect every little detail. Instead, try and show your company's primary purpose, which makes it unique.
Just give your customer an idea of what your company does and tell the rest using your website or your physical store. A tagline if you have one can also help.
Also, prefer vector images over raster ones to make sure your logo looks equally good whatever the size. Moreover, remember, you must use high resolution for better scalability.
3 – Too plain/straightforward
This is the logo of Olympic athletes from Russia – obviously.
Wow, this is one boring logo!
They just took the words and placed them in a circle – representing nothing.
On the bright side: it's highly informative and lacks excessive details.
Tips based on this example:
When you create a logo for your company, always choose simplistic design over extravagant.
Always remember that your logo should represent the spirit of your brand. An overly plain design is almost always a spiritless one.
Plain, boring fonts and no images whatsoever don't look like professional logos, so try to use some imagination.
4 – Too abstract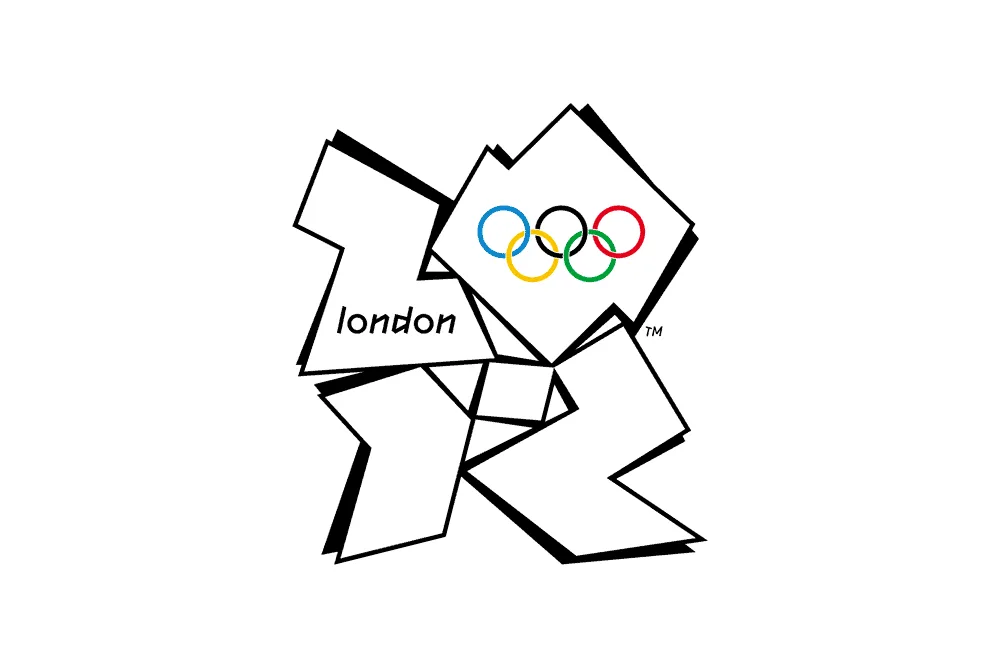 You can remember this logo from 2012 – it represented the Olympic Games in London.
I am adding it to this list because it's indecipherable!
Okay, you can tell it's the Olympics from the five loops, and you can tell it's in London because it says so.
But what are the distorted pink shapes supposed to mean?
I'll make it easier for you – it's the year 2012.
Tips based on this example:
Be creative to make your brand logo stand out from the crowd. Just don't forget common sense.
Try and show your logo to people without telling what it represents. If they can tell what it's about, it's a good logo, use it. If they cannot… Well, throw it out.
Make sure the fonts and the shapes you use are understandable to ordinary people. If only Picasso could see what's intended there, it's probably a bad logo for selling handbags online.
5 – Ugly colours/style
This one is obviously using the standard font and colours of a very outdated version of Microsoft PowerPoint.
Also, I don't even want to comment on the 'swan' looking more like a goose, and in a very questionable position.
Tips based on this example:
Don't use (and don't let your designer use) these kinds of visual effects – too plain, too heavy, too much.
Gradient colours are great (ask Instagram). However, don't forget your logo must look good in black-and-white, too.
Your logo must be scalable enough to fit anywhere from a tiny merchandise badge to an enormous street banner, from a very vertical type of device to a very horizontal-oriented one.
6 – Unobvious meaning/misleading image
This logo clearly states that it represents FIFA World Cup championship held in Russia in 2018.
However, how IS the image associated with football?
No matter how hard I try, I positively fail to see the meaning here.
However, that's not the worst thing.
Does it look a little like Edvard Munch's 'The Scream' or an unfriendly alien to you? You're not alone.
By the way, it's not the only weird-looking FIFA logo.
The one for the World Cup 2014 in Brazil doesn't look more logical at all. Look, isn't this a man facepalming?
Tips based on this example:
In the logo design process, it's essential to look at it the way your target audience will. If it clearly resembles a widely popular meme or a famous work of art, it's a don't – unless you are making it for an art gallery. In this case, it's a do!
It's always better if you use customary shapes. They are more memorable than weird, alien ones. Don't be afraid to look natural, habitual even.
Experienced designers tend to choose familiar forms, shapes, and colours. They know for sure: questionable content may attract much attention, but this will not be the attention you want. Not to mention it'll be over in a week or two.
Bonus: 3 Free Logo Creation Tools That I Recommend
As a thank you to everyone who has read up till now (and to those who scrolled to this section :)), here is the promised logo creation tools list.
Strictly speaking, Canva is not just an online logo maker – a free one, by the way.
It's also fit for designing banners, images for social media, postcards, certificates, anything imaginable.
But back to logo making. Canva offers templates for various business niches, for example, you can take a logo they offer for a fashion magazine as a base and adjust it to fit your brand.
Alternatively, you can create a logo from a photo of yours or dragging and dropping standard elements. It also allows adding some text.
Although, remember? Never overuse text in the logo! The neater, the better.
You can download your design in various file formats – whichever seems preferable.
There are a few cons, alas. Its free functionality is somewhat limited (although it will still be enough for creating a quick design of your own).
And the design may not be too unique unless you don't customise a template inside out. After all, many people use Canva, and they tend to use the same templates.
I liked it immensely! It's simple; it's neat; it instantly gives you an idea of what your logo will look like in different places. Moreover, oh, how white it is!
To start using Squarespace, you enter the name of your brand at the homepage and go straight to editing it.
To save the ready logo for free, you should have an account – or create it right there.
I can't say it's a very powerful logo generator.
For example, unlike Canva, it does not allow uploading your own images and uses only the elements provided by third-party designers. However, is this a bad thing?
Honestly, I don't think so unless you have plenty of design experience yourself.
By the way, with Squarespace, you can design a whole website from the templates available.
This one also provides logo templates for your brand name.
There's also a field to specify tagline if you like and a dropdown selector for you to choose your brand's niche.
It's also free to use, but you'll need an account to save your logos.
You may select several designs that you like and save them in your account.
In case you'd like to give it an extra thought in a day or two.
Also, I loved the preview mode: they put your logo in so many places, starting from a business card and a pen and on to a hanging sign in the street with your logo on it.
You'll know exactly how people will see your brand logo.
The downside is the same – a somewhat limited range of templates provided.
On the other hand, there are more than enough for a free logo maker.
Bottomline
I hope your eyes didn't hurt too much from seeing some of the logos in the first part of the article. 🙂
What I meant to say with this chart is that making a logo is not a marketing strategy in itself and not even the central part of one.
However, it's important enough if you'd like people to remember your brand and love it as much as you do.
The vital things to remember are:
Your logo should reflect the primary goal of your company, not everything you know about your company.
It's good if your logo design (and your website design, too) is created with the business niche in mind.
After all, an eCommerce website and a shoemaking company aim for totally different goals and should use various tools to reach them.
You don't have to spend much money on your logo, especially if you're starting up, you do have more important things to invest in.
This is what free logo makers are for. Just use them wisely.
Your logo is the face of your company.
You'll want it to be stylish, tasteful, and trustable.
Good luck and may your brand logo never get to a similar chart! 🙂
Author Bio: Nastya Zhavoronkova is a marketing manager at X-Cart, an all-in-one eCommerce solution provider.