How To Use AI Video Editing to your Advantage
With the advent of artificial intelligence, different industries have observed revolutionary changes, and the world of video has already been transformed. AI will impact the video editing field, saving time for video editors and making their lives easier. The technological revolution has enabled video editors to completely change the dynamics of video making and editing.
Artificial intelligence isn't just limited to science fiction films; machine learning and AI applications can play a massive role in video editing. Since no AI application can replace creativity and mind-blowing ideas, you can still use artificial intelligence to save time to make the video editing process faster.
From colour correction to motion tracking, there are many tasks artificial intelligence can perform and help human editors to ensure high-quality video editing. The field of video editing is constantly evolving, allowing directors, editors, and producers to ensure the video editing process is more efficient.
Let's discover how artificial intelligence is transforming the field of video editing, what the benefits of using AI for video editing are, and how human editors can embrace new AI applications to stay successful in their field.
What is AI Video Editing?
In today's age, the demand for video content is increasing daily. The video industry is investing in the latest technologies and tech tools to fulfil the needs of consumers. Good news for YouTubers, content creators, editors, directors, event professionals and producers! Now you can create more video content with the help of video editing tools.
Different artificial intelligence and machine learning software tools are available to edit your marketing, personal and branded videos. AI applications have wholly transformed video production and editing processes' dynamics. It enables humans to make intelligent and accurate business decisions. With artificial intelligence, you can easily detect errors and make necessary changes in the video.
AI video editing ensures you get a perfect video for your brand or YouTube channel and increase the number of subscribers. With advanced video editing tools, you can easily curate, edit and distribute videos. Interestingly, many YouTubers use AI video editing tools to rearrange the visual content and use different customisation options to create a perfect piece.
Can AI Replace Human Editors?
Absolutely Not. Artificial intelligence will not replace human video editors; it will make them more powerful. Everyone wants to get more things done in less time. Thanks to AI applications and machine learning, you can edit videos faster. Video production and editing companies should embrace video editing tools to save time and improve the quality of work.
With artificial intelligence tools, you can automate time-consuming and repetitive tasks and focus on improving the overall quality of the video. Whether trimming the clip or adding any transition, AI video editing tools can do many jobs without human intervention.
You can rely on AI video editing tools to make the curation and editing process super-efficient, but AI can't replace human talent. Human content creators and video editors can use their storytelling and imaginative skills to make videos more interesting than AI applications can't. Humans can bring exciting ideas to life by harnessing the power of AI and ML.
Most importantly, humans can create a solid emotional connection with viewers, which is the key to successful video content. So, human content creators and video editors can use their intelligence that no technology can use.
How to Use AI for Video Editing?
Using AI video editing tools is very easy. You don't need to develop advanced skills or knowledge to use AI-powered video editors. The software tools will perform all the essential tasks for you. There is no need to learn advanced video editing principles. Video editing software tools can easily detect problems such as background noise and other issues. These tools can increase your video editing process by automatically choosing the best shots and footage for your story. Now you can create professional quality videos for your business and reach a wider audience for maximum user engagement.
Benefits of Using AI for Video Editing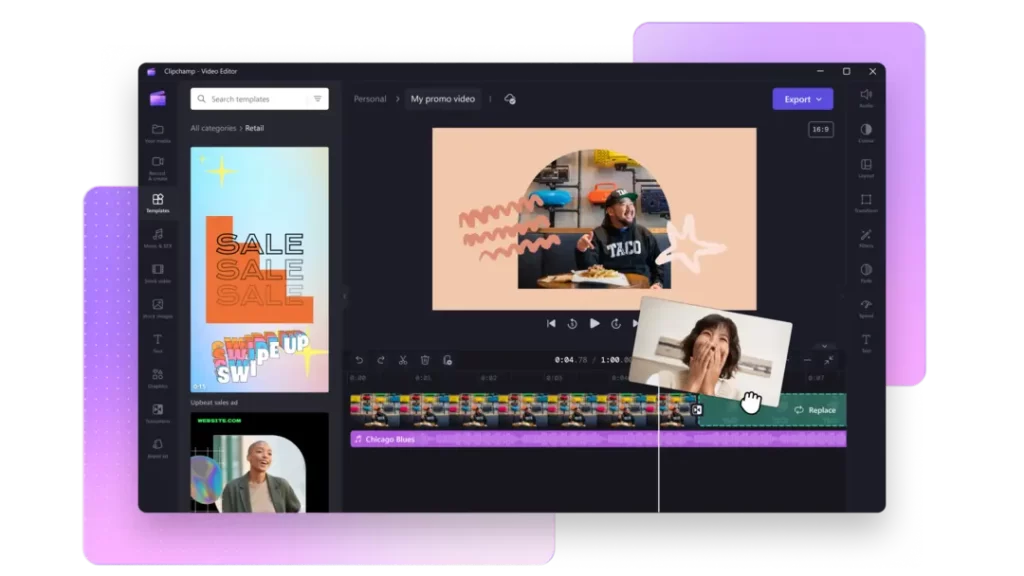 Save a lot of Time
One of the most common reasons many video production companies focus on AI video editing tools is that it can save you time. Video editing has become easier for many content creators as it can quickly edit the film in a shorter time. The automation feature enables you to perform many tasks automatically; no manual effort is needed. AI video editing is the easiest way to do a lot of repetitive tasks for you. With the help of AI video editing tools, video editors can quickly edit videos and improve their quality of work.
Colour Correction and Matching
AI video editing tools have many advanced colour editing and matching features, enabling you to choose custom themes and brand colours. Colour correction, matching and grading will allow editors to easily compare and perfectly balance two shots and a polished final product.
Video Upscaling
The concept of image upscaling isn't new. However, the trend of video upscaling is also growing. Thanks to AI-powered video editing software tools, upscaling has now become a standard feature of these tools. Upscaling aims to improve a video's resolution and take your videos from 480P to 8k. You can make high-quality videos with AI video upscaling software tools. No matter the type of camera you are using for video production, intelligent artificial intelligence will automatically increase the quality of a video while upscaling low-resolution videos to higher resolutions.
Video Stabilisation
Video stabilisation has become easier with AI video editing tools. The smart video stabilisation tools will help you achieve the highest level of stabilisation by applying stabilisation algorithms and logging motion data. Whether you want to compile footage from different cameras or moving subjects, you can make shaky footage smoother and watch-worthy with video stabilisation technology. Now eliminate all the unwanted jitters and blurriness from the final recorded footage and achieve a smoother result.
Curate Video Footage
You can use artificial intelligence and machine learning algorithms to curate video content in less time. Now there is no need to spend hours watching the footage to curate video content. Embrace AI, and it will choose interesting clips from the footage based on the users' reactions so that human editors can focus on other cognitive tasks. Furthermore, with video editing software tools, you can easily combine different photos, music, and clips to curate exciting video content.
Whether you are a digital marketing agency, fashion brand or eCommerce store, video curation's primary challenge is investing long hours creating original video content to establish your brand credibility. Many brands use AI-based tools to streamline and automate their video content curation process.
Intelligent and Automated Tools
With AI/ML-powered video editing tools, you can easily handle large volumes of video content. Whether you need to distribute video content or perform editing work, AI tools can free up editorial time and resources. Automatic video editing tools can help content creators, YouTubers, video creators, and marketers to focus on creating interesting video content without spending hours sorting and categorising it.
With advanced automation features, you can auto-select music, and video filters, auto-sync edits to music, apply themes and transitions, auto-uploads, create automatic backups and apply other automated creative effects.
Customisation Options
Thanks to AI-powered video editors, they provide you with full customisation and automatic features. There are no editing skills required to use the feature-packed video editors. You can easily create movies from images and videos. Whether you want to apply any particular effect, transition, zoom or crop, beat detection, or create cinematic videos, you can take your productions to a new level. The easy customisation options of video editors will enable content curators to produce quality video content for your brand.
Make Video Editing Fun
Many AI-powered tools for video editing can enable content creators and YouTubers to make videos easily and quickly. The tools make it easier to create branded content by quickly organising stock footage and personalised media. The best part about using these tools is that you can add complex effects to your videos without knowing too much editing skills and hardware processing. With the help of AI-based tools, you can convert your articles into a video by simply assembling and visualising the available information. In short, artificial intelligence applications ensure that creating stunning visuals is easy and fun.
Engaging Video Clips
When creating video content, capturing the audience's attention is the ultimate goal of marketers and content creators. A captivating video that profoundly engages viewers from start to finish is the key to audience engagement. With AI video editing, you can easily create engaging video clips that grab viewers' attention and generate interest in the rest of the video. For instance, you can add special effects, such as explosions, weather, and fire, to enhance the quality of your video. Whether you want to implement background effects, graphic elements, animations, transitions or other AR effects, the AI system can allow you to add spice to the end product.
Best Video Editing Tools for Video Editors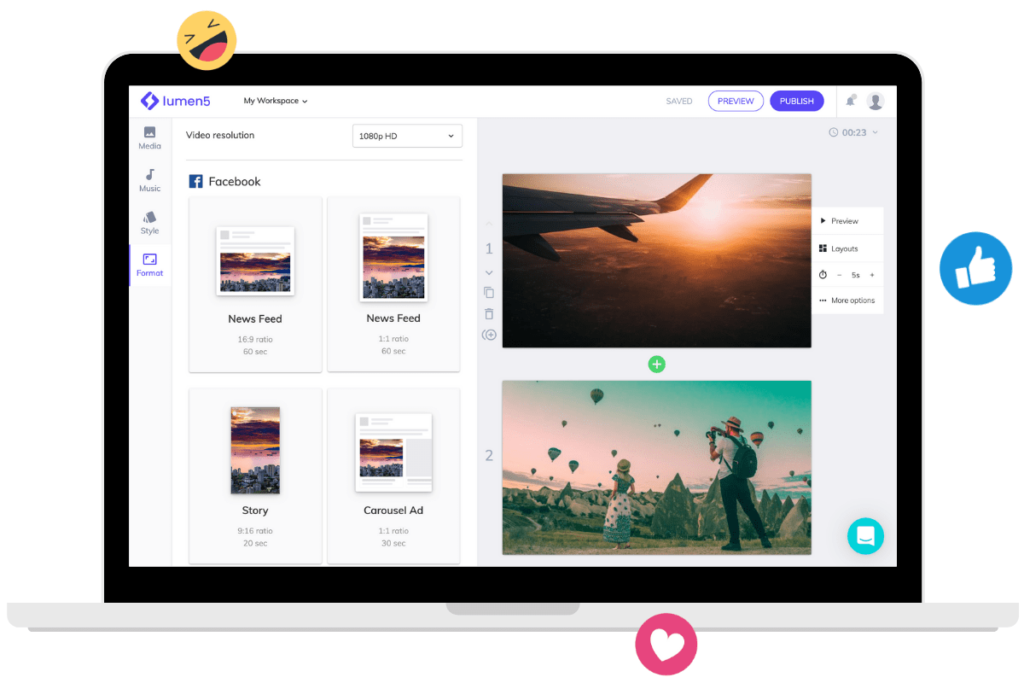 1. Lumen5
Lumen5 is one of the best AI tools for video editing that allow filmmakers, marketers, and video editors to create engaging and personalised video content. You can choose from several custom themes, fonts, colours and watermarks to make social media content enjoyable. The tool is simple and easy to use, allowing you to edit, crop, resize and cut your video. It supports different file formats and is compatible with multiple browsers and devices.
2. Synthesia
Synthesia is an AI-powered video creation platform that can make video content from plain text. Whether you want to create a how-to, tutorial, or product marketing video, Synthesia allows you to create videos quickly. You can create and localise videos in 120 languages and edit videos at any time. There are more than 85 AI avatars and 55 pre-designed templates available to choose from. Synthesia is packed with so many other features, including a media library, visual design elements, a screen recorder, professional voiceovers, and background music – to name a few.
3. Runaway ML
Runaway ML is a real-time video editing tool with over 30 AI magic tools. It is a fantastic content creation suite that can help creators ideate, generate, and edit video content. It includes dozens of AI-based creative tools that can perform tedious and repetitive tasks. Its AI magic tools can easily add new backgrounds, remove any object from the video, track the object's movement, and add automatic subtitles.
4. InVideo
InVideo is loaded with royalty-free music and stock videos, allowing you to create engaging video content quickly. This professional video generator and the editor will enable you to create videos from scratch and upload the existing video footage. There are more than 5000 AI-based video templates available to choose from. You can add music and sound effects or upload your fonts.
5. Veed.io
It is one of the most popular online video editors that help editors create and edit videos in minutes, with no professional design or editing skills. Veed.io includes many templates for your video content. You can choose different styles and formats to create the best video content for your brand. The tool can generate a video based on text, images and footage you provide. Most of all, you can easily customise the video per your brand identity and style. The easy-to-use interface allows you to add auto subtitles and translate audio to text.
6. Filmora
Filmora is a powerful video editor that allows you to make impressive and captivating videos. The tool has built-in editing features such as AI audio stretch, AI audio denoise, auto reframe, silence detection, audio visualiser, auto-ducking, and auto synchronisation – to name a few.
7. Raw Shorts
Raw Shorts is an AI-powered video editing tool for marketers, allowing them to make explainer videos for their brand. With its advanced artificial intelligence animated video technology, you can quickly transform the text into animated videos. All you need is to upload the text; intelligent machine learning algorithms can scan and analyse the text. The AI system assembles video outlines, makes necessary adjustments, and generates high-quality video.
8. Designs.ai Video Maker
Designs.ai is an excellent AI video editing and production tool that can convert text to videos in a few minutes. If you want to create incredible videos for your business or YouTube channel, choose Designs.ai video maker. The artificial intelligence video editor can combine high-quality stock images and text to create exciting video content. The stunning effects, transitions, special effects, animations, and voiceovers make it the perfect online video editing tool for your brand needs. One of the best things about Designs.io video maker is that it can optimise your videos for Facebook, Instagram, TikTok and YouTube.
9. Adobe Premiere Pro
Adobe Premiere Pro is a professional video editing software that can quickly edit your videos. It lets marketers, video makers and content creators choose from thousands of templates and video thumbnails. Whether you want to trim video, crop video, change speed or convert an image to GIF, Adobe Premiere Pro can perform all the video editing tasks. The automatic captioning feature will make your videos more engaging. Auto colour and auto-match features enable you to choose colours that suit your brand style best.
10. Flexclip
Flexclip is a fantastic AI video editing tool that helps you create and edit videos for your social media channels, branding, personal and other purposes. With over 1000 text animations and preset styles, you will find millions of vector elements, transitions, and overlays. Flexclip is loaded with royalty-free stock images and music that you can use to create professional videos. It includes many unique features, such as trim/cut video, add text, music, watermark, transition, motion graphic, record screen, GIF maker, filter video, aspect ratio, etc.
11. Elai
Elai is an AI-powered video generation and editing platform to build customised AI videos from text. You will find multiple AI avatars to fulfil your video needs. It is an excellent option for digital marketing agencies, allowing them to turn high-performing blog posts into exciting videos. Whether you want to create tutorial or training videos, social media videos, product videos or promotional videos, Elai is perfect for creating and editing captivating videos.
12. Wisecut
Wisecut is an online video editor that harnesses the power of artificial intelligence and voice recognition to edit videos. Now you can create engaging videos with Wisecut and edit long-form videos into short, exciting clips with music and subtitles. Creating short clips is perfect for social media platforms like TikTok, Instagram Reels, and YouTube Shorts.
The intelligent auto-cut silences feature allows you to identify and delete long pauses automatically. It has a unique facial recognition technology of punch in and out and features of auto-translation and auto subtitles. Wisecut automatically chooses background music that can add life to your videos. The automatic audio duckling and storyboard-based video editing will make video editing easier.
13. Movavi
Movavi is the best online video editor tool for making videos with special effects, keyframe animation and other advanced effects. The Chroma key lets you change the background of the video clips and titles, and filters and transitions can spice up your videos. The impressive AI noise removal feature allows you to remove uncool sound effects from the video while enhancing quality.
14. Pictory
Pictory is an AI-powered video generation and editing tool with many useful editing features. You can create professional-looking videos for your business without professional skills or experience. You can create shareable video content for your brand with this cost-effective video editor – Pictory. The highly advanced artificial intelligence can choose snippets from your Zoom meetings and webinar recordings and create a perfect high-conversion video for your social media platforms. Add captions to increase user engagement, create video highlights, summarise long videos and add crystal clear narration.
Should Video Editors Use Artificial Intelligence for Video Editing?
Absolutely, yes!
Video editing is a daunting task that requires much effort, human involvement, and skills. Video content is critical for your website or blog to increase user engagement, attract potential customers and close leads. Fortunately, AI video editing tools help video editors automate video creation and editing processes by improving the quality of work.
They are simple to use and can reduce the time and effort required to produce quality video content. You can get impressive results with these AI-powered video editing tools and make engaging videos for your brand or business in just a few clicks. Try these video editors and take your filmmaking or any other company to the next level.