Top 20 3D Lettering Brushes for Procreate Typography
If you want to get creative with your Procreate brushes, this is the definitive resource you need to check out!
Typography can be fun and can be very creative. But if you want to master typography, it's crucial to have the right tools. Using the right typography brushes can make your creations come alive and bring them to life. So today, I decided to share the top 20 3D lettering brushes you should have in your procreate app.
Learn how to use Procreate's built-in 3D lettering brushes to create impressive 3D typographic elements and artworks from within the app.
1 – The Grainers Brush Set
This is a brush set that will help you create illustrations and lettering. It contains 20 brushes that cover all the bases. From small to large, powdery to coarse – these brushes will help you create anything in your head.
With the new Grainy Builder brushes and the 3D instant calligraphy brushes, you can quickly and easily construct shading smoothly. Having different densities and grain sizes will ensure polished shading transitions. And because we've grouped them all, you'll have access to the perfect tools for your project.
This set will be up your street if you're looking for serious brush stroke action. These brushes are ready to try it all – whether you want to achieve realistic or flat styles.
With its range of colours and materials, these paints are the perfect choice for anyone who wants to get creative with 3D lettering.
Loading Preview…
Powered by Creative Market
2 – 3D Pack — 3D Brushes For Procreate
The 3D Pack is a must-have collection of 3D lettering brushes. Not only does it offer you an astonishing number of new brushes, but it's also elevating your work into a new dimension.
3D is essential to your workflow, whether working on a 3D project or creating great-looking images. The 3D Pack gives you all the tools to make the most of it.
You can create stunning 3D effects using the 3D brushes included in this collection. Each brush has a unique effect that will change your artwork in a new way. All the brushes are ready to use immediately in Procreate, so you can start applying them to your projects without prior knowledge.
Loading Preview…
Powered by Creative Market
3 – Freestyler – Brushes for Procreate
The freestyle stylus combines different brush types, including outlines, 3D, flat, monoline, texture and pattern. It provides you with a new way to create art and ideas. You can use some brushes to get your ideas down immediately, while others will guide you through the steps in the included user manual.
The list of brushes includes:
Pencil Sketch Brush to get your ideas down!
Slipstream Monoline (Standard, Outline & 3D)
Riptide Brush Script (Standard, Outline & 3D)
Roughneck (Monoline, Taper & Detail)
SloppyJoe (Monoline, Taper & Detail)
Unique 3 (Rock + Roller, High Five & Broken Arrow)
Pattern (Pinboard, Spray Can, Confetti, Milky Way)
Liner (Flight Path, Rain Maker, Bread Crumbs, Super Star)
Smudgy
Wingman Paper Plane!
Loading Preview…
Powered by Creative Market
4 – 3D Procreate Brushes
The set includes 30 brushes and various options to create a unique and stylish 3D-looking illustration or lettering. The set includes a variety of brushes and options, allowing you to create unique and stylish designs.
Included in purchasing your package will be a set of 40 brushes. You'll find 16 monoline, 16 pressure, and eight calligraphy brush sets. In addition, the set includes a guide with some tips and tricks on how to use these brushes.
Loading Preview…
Powered by Creative Market
5 – Shiny Chic Procreate Brushes
The brushes are perfect for adding depth and dimension to your illustrations. They're available in various shapes, sizes, and colours. You can use these brushes to add accents or details in one stroke. They're perfect for 3D lettering and can be used to add a splash of colour to your projects.
This brush set includes 60 brushes, with 30 pressure-sensitive and 30 monoline versions. You'll receive a brush set file for each brush and a pdf file containing tips and tricks on using them.
Loading Preview…
Powered by Creative Market
6 – Outline Pack – Outline Brushes
Outline art has become a standard tool in digital art. They're easy to use, fun to create and versatile. For that reason, outline art is an excellent choice for beginners who want to start their creative journey with digital art. And, of course, if you're looking for something extra special for your design, outline art is a great way to go.
You can use the Procreate brushes in various ways, and they can be applied to different areas of the canvas. For instance, you can use them to add colour to a painting or a background to a photo. Some brushes are flat; others are round, some are small, others large. They're all designed to fit the style of the work that you are creating.
Loading Preview…
Powered by Creative Market
7 – 3D Lettering & Outline brush pack
If you are looking for a fast and easy way to create lettering and sketches for your designs in Procreate, then look no further. This new brush pack for Procreate is filled with various functional and detailed brushes that make the process easier.
It includes 57 individual brushes for you to use with various tips, including a round brush, a chisel brush, a pixel brush, a drop shadow, side shadows and even a spray brush. You can save it in the Procreate app for easy access.
All brushes are designed to work perfectly with the iPad and Apple Pencil.
Loading Preview…
Powered by Creative Market
8 – Inkers Procreate Brush Set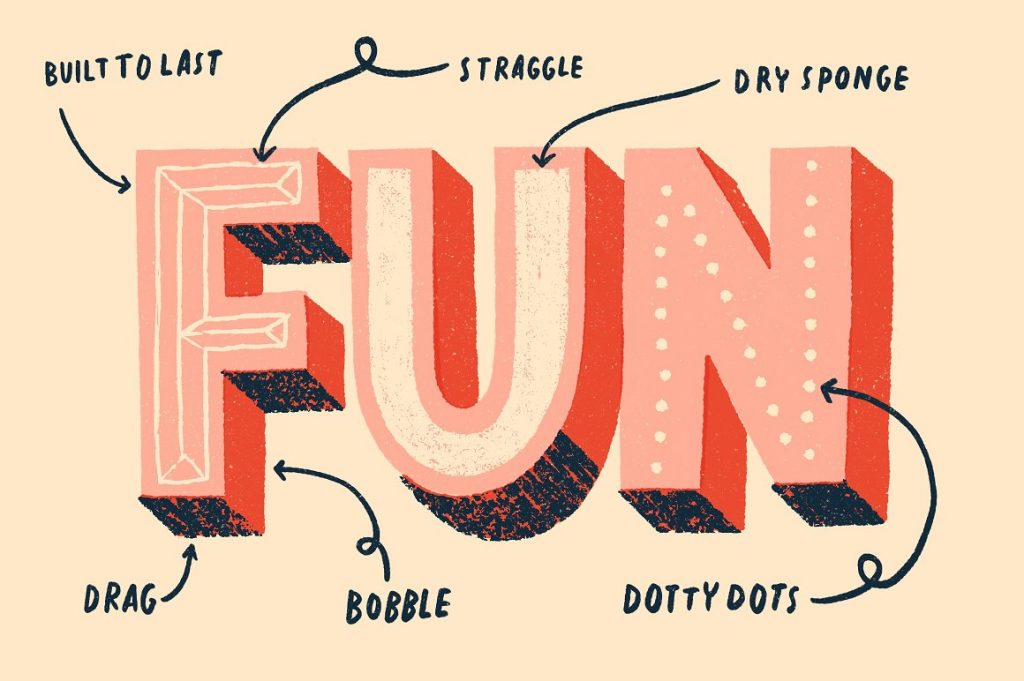 A set of 12 Procreate brushes that you can use in your day-to-day illustration and lettering work. Many hours have been spent fine-tuning and tweaking these brushes to create a set of responsive, natural brushes for Procreate.
Loading Preview…
Powered by Creative Market
9 – Procreate Pencil Case
This set is a great way to start all your creative projects. The idea was to recreate that old pencil case you've had in your room or backpack for years, filled with pens and pencils in various states of repair.
The unsharpened pencil, the stubbed fine liner or that inky marker that's been used way too many times. I wanted to build a set of brushes that will give you all the tools you need to start creating excellent illustrations, lettering and everything in between.
There's hopefully something for everyone in here. I've tried to create a wide range of lining brushes that go from silky smooth to downright straggly and bumpy, as well as a collection of grainy shaders and stipplers.
There are 34 brushes in the pencil case spread across a range of styles and uses.
Loading Preview…
Powered by Creative Market
10 – The Procreate Hand Lettering Toolkit
The Procreate Brush Set is the perfect way to start your hand lettering journey. With 26 brushes included, there is no better way to get started. You'll also receive a free Procreate Guide to help you learn the basics of hand lettering.
The set includes eight different types of brush, including:
Sketchers: A set of eight brushes designed for sketching, line art, or both.
Inkers: A set of twelve inking brushes that range from everyday liners to rough and ready textured brushes.
Monoliners: A set of six monoline brushes ideal for creating simple, beautiful 3D lettering or even for using as guides to build on with your lettering.
Loading Preview…
Powered by Creative Market
11 – 3D Brush Bundle For Procreate
This is the ultimate collection of tools for anyone who wants to create unique, realistic-looking 3D lettering designs. This product includes everything you need to paint designs on objects, letters, and anything else you'd like to embellish. It also includes step-by-step tutorials, colour palettes, and more guides for customising your work.
This bundle is specifically designed to help you achieve your goals in the quickest way possible. It comes with a grid guide, a drawing pen and 3D lettering brush, and lettering tips. With this bundle, you'll be able to quickly draw a structure, sketch out the design, and then create a stylised piece of art with just a few clicks.
Loading Preview…
Powered by Creative Market
12 – Dead Head Procreate Brush Set
If you're looking for a quick and easy way to create several new and innovative vector brush sets, look no further than the Dead Head Brush Kit by VectorArt.
The kit includes a variety of brushes for creating both line art and filled art. With just a few clicks, you can customise the appearance of each brush in any way you wish.
The set includes a total of 14 brushes, which include two pencils, eight ink, three brushes, one brush, one brush and one brush. They come with a nice little bag, making the whole set compact and easy to carry around. The set also comes with a handy little guide showing how to use all the brushes, so it is straightforward to figure out.
Loading Preview…
Powered by Creative Market
13 – Awesome Alcohol Markers
You can now enjoy the pleasure of drawing with alcohol-based markers right on your iPad! This collection of 29 brushes simulates the behaviour of actual markers: from how they blend and build up in opacity, to their texture and bold intensity, with plenty more thoughtful features built right in. When your friends see your unique pen-drawn creations on your iPad, they'll be shocked that you used a stylus.
You'll get five different colours included in the set. The set also comes with various of the most popular marker nibs and some delicious marker textures. I tested the brushes by performing rigorous testing, comparing their behaviour to working with physical markers so that when you use them, it feels natural and easy, just like real markers. In addition, you'll be making awesome marker art in no time with the included 38-page in-depth user guide.
You can now create and draw beautiful works of art with natural markers and ink pads. Whether you're an illustrator, cartoonist, graphic designer, painter, or artist, you can create with various art tools, ink pads, and markers.
You can start drawing or sketching immediately with natural markers and use the ink pads and markers to create and colour the work you love. When you're finished, upload the art to your camera roll and send it to friends and family as a digital image.
Loading Preview…
Powered by Creative Market
14 – Dirty Halftones Brush Set
The brushes are great for graphic design, web design, photo manipulation and more. You can use them to create various effects, including grunge, textured backgrounds, and watercolour.
The complete set includes all of the brushes in the video tutorial. But it's a great idea to use all of them, too. You get a total of 42 brushes in the set: 14 shader brushes, 14 texturiser brushes, 14 sprayer brushes, and five extra brushes. In addition, you get a video tutorial that walks you through each brush's usage.
Loading Preview…
Powered by Creative Market
15 – Pop 3D Procreate Brushes
If you're new to this sort of thing, I think this is one of the best 3D pop-out bubble brushes available. With a vast collection of brushes to choose from, you can get some exciting, bubbly effects on the canvas. They have a great range of brushes, including textured and grainy ones.
Some brushes are pressure and opacity-sensitive so that you can get some cool bubbly effects. If you're new to this sort of thing, this is one of the most exciting bubble brushes available.
Loading Preview…
Powered by Creative Market
16 – 3D Brushes Procreate Set
3D art is all the rage! Procreate X5+ 3D Brushes Set is a fantastic way to create 3D effects in your illustrations or lettering compositions in a flash of an eye. You will receive 93 brushes of various shapes, sizes, and colours. They are perfect for creating textures and 3D objects and adding life to your illustrations or 3D lettering.
Procreate comes with several helpful brush types for different kinds of illustrations. Using translucent and transparent brushes will give your illustrations a futuristic effect. There are plenty of brushes available for adding texture to your illustrations. You can pick from a wide range of textures and customise them as per your choice.
Loading Preview…
Powered by Creative Market
17 – SICK Letters – 3d & Calligraphy
If you'd like to create stunning, unique, and one-of-a-kind digital artwork with your iPhone or iPad, you'll need a unique set of digital art brushes to draw with. In addition to helping you create some fantastic art pieces, these Procreate brushes will also give you a leg up on your 3D lettering tattoo and graphic design projects.
Loading Preview…
Powered by Creative Market
18 – LetterBuilder
The artist, or the designer, ensures a design is aesthetically pleasing. Whether it is the design of a logo, a website, a product, or a marketing campaign, the designer is responsible for ensuring that it is aesthetically pleasing.
For that reason, we've created several letter grids that give you the primary form of each letter of the alphabet. Each letter grid gives you the letter's size, thickness, and width. These letter grids are available for download below.
Loading Preview…
Powered by Creative Market
19 – Sign Painting Brushes for Procreate
The Brush Set for SignPainter is designed to help you create beautiful signs and other artistic projects. This set contains 16 ready-to-use brush sets. These brushes are perfect for creating signs, posters, and other artistic projects. They are easy to use, and they give you many options. You'll love the simplicity of creating something beautiful with these brushes.
These brushes are available for all iOS devices running iOS 9.3 or later. They include a variety of designs and themes. So whether you're a professional artist or a beginner just starting, you're sure to find the right brush.
Loading Preview…
Powered by Creative Market
20 – Fable Casual Procreate Brush
As a digital procreate brush pack, it's not the real thing, but it's a decent representation of the real thing.
Of course, nothing can compare to the real thing, but this goes some way to recreating the feel and flow of a perfectly paletted one-stroke brush.
As if a set of brushes weren't enough, there are some super handy practice sheets to follow so you can practice your casual alphabet.
This set of brushes has been created specifically for Procreate on the iPad Pro, so be sure you have all the proper hardware and software before purchasing!
Loading Preview…
Powered by Creative Market
Conclusion
So now that you know the different brushes and how to use them, the best way to learn the art of 3d typography is through practice. Try using them in your designs.
You will learn how the brushes behave and how to apply them to make your creations stand out. And remember, if you're stuck, you can always return to this list to find your brush of choice.
Get the brushes you need to create these fantastic 3D lettering designs for less with our exclusive promotion!