10+ Writing Tools for Designers Who Hate Writing
Most designers are not fond of writing.
It happens because their talent is mainly based on using visual resources. That is why it is difficult for them to work with words.
However, if you are a designer, you need to find a way to perfect your writing skills since designs often need to be accompanied by words.
Failure to do this might prevent you from getting further in your career. You cannot avoid using words if your job involves graphic design or website design.
Designers encounter words when they need to create website content or slogans for their work. Therefore, it is essential to have strong writing skills.
Fortunately, many apps and writing tools online can help designers master the art of excellent writing.
This article will look at some paid and free apps and writing tools you can use to improve your skills.
Online Writing Tools
Grammarly
Don't want to go through the trouble of having someone else go through your work? It would be best if you considered using Grammarly.
These online writing tools check your punctuation, grammar and spelling mistakes for free in seconds.
All you need to do to copy and paste your work into it to use this online tool. Once this is done, it will show you all your mistakes and provide corrections for each error.
You also can use plugins for Firefox, Chrome, or Microsoft Word. With these plugins, you do not have to copy and paste your content into Grammarly because it corrects your work as you write.
This is very advantageous, mainly if you write a lot of content online. It will ensure that everything you write online is well-written. This includes all your emails as well.
You can also set a specific tone of voice in which you would like to write. For example, the tool will ensure you use the appropriate language if you want to sound friendly. On the other hand, if you're going to sound professional, it will suggest a completely different set of phrases. 
Grammarly also has a paid premium version that allows you to check your text for plagiarism and provides vocabulary enhancement suggestions. You can check this Grammarly review from Serpfocus for more information.
And If you're a college student, the Grammarly student discount is available to you to save some money.
Dictionary.com
In writing, it is also vital to understand the meaning of words. Dictionary.com allows you to find the meaning of different words in no time.
This online writing app is not only good for word definition. It also gives audio pronunciations and spelling suggestions.
The paid version offers medicine, rhyming and science dictionaries, and an encyclopedia.
Therefore, whenever you have difficulty understanding the meaning of different words, you can use these online writing tools to better understand.
This tool will also help you become a better writer by giving you a new set of words. You can easily find synonyms or antonyms and make your writing that impactful. When writing for an online audience, you must communicate your messages well; Dictionary.com can help you do that in less time. 
Hemingway
Hemingway is one of the most popular writing tools online. This online tool uses colours to highlight your style, spelling, and punctuation mistakes.
To use this app, you must paste your content into it and wait for suggestions. The results will highlight several things.
These include; sentences that are too long, complicated words, paragraphs that are very dense and hard to understand, extra adverbs and the use of passive voice.
You then have to edit your work and watch the score improve. 
Hemingway also gives you a readability score to tailor your writing to a specific audience. This is very helpful when creating websites or apps and will help ensure your readers understand you easily. 
With Hemingway, you have an assurance that your text will be top-notch because the online tool highlights all the mistakes you might have made while creating your content.
ProWritingAid
The ProWritingAid online writing tools check for abstract, complex, overused and vague words. It also checks your grammar and spelling.
To take advantage of the online tool for the free version, all you need to do is paste up to 3,000 words into the site and wait for the results.
When you upgrade to the paid version, you will not have a word limit, and you will be able to integrate the tool into your Microsoft Word application and your Google Docs.
You also can pay more to utilise the plagiarism-checking feature.
Custom Writing Services
You should consider hiring writing experts if you are not up for writing your content. The best thing about hiring an expert writer is that you are assured that they will do a great job.
They do all the heavy lifting. They will write your content for you and edit and proofread it to ensure it surpasses your expectations.
The other advantage of hiring expert writers is saving a lot of time. Instead of writing, you can use your spare time to work on your designs and other aspects of your business.
Feel free to visit the highly esteemed Essay websites for the best custom writing services.
Make sure you are clear about your requirements and pinpoint precisely what you want from a writer. Establish a clear budget and write detailed briefs to help your chosen writer do the best possible job. 
Don't forget to factor the writer's price into your design projects, as you don't want to pay for them out of your paycheck.
Writing Apps
Phraseology
Phraseology should be your writing companion if you use your iPad for writing.
This writing app helps you improve your skills by pointing out grammar mistakes, misspelt words, repetitions and problems in structure.
One of the best things about this app is that it gives you a report for all your writing content. This is very important because it enables you to track your improvement.
You will also feel much better about your skills when you notice that you no longer make the same mistakes or have finally learned to spell that word you've always had trouble with.
Phraseology is a drag-and-drop app that can better benefit those who organise their lists and thoughts.
This app can also be linked to Dropbox and integrated with Terminology, a company's dictionary.
Marked 2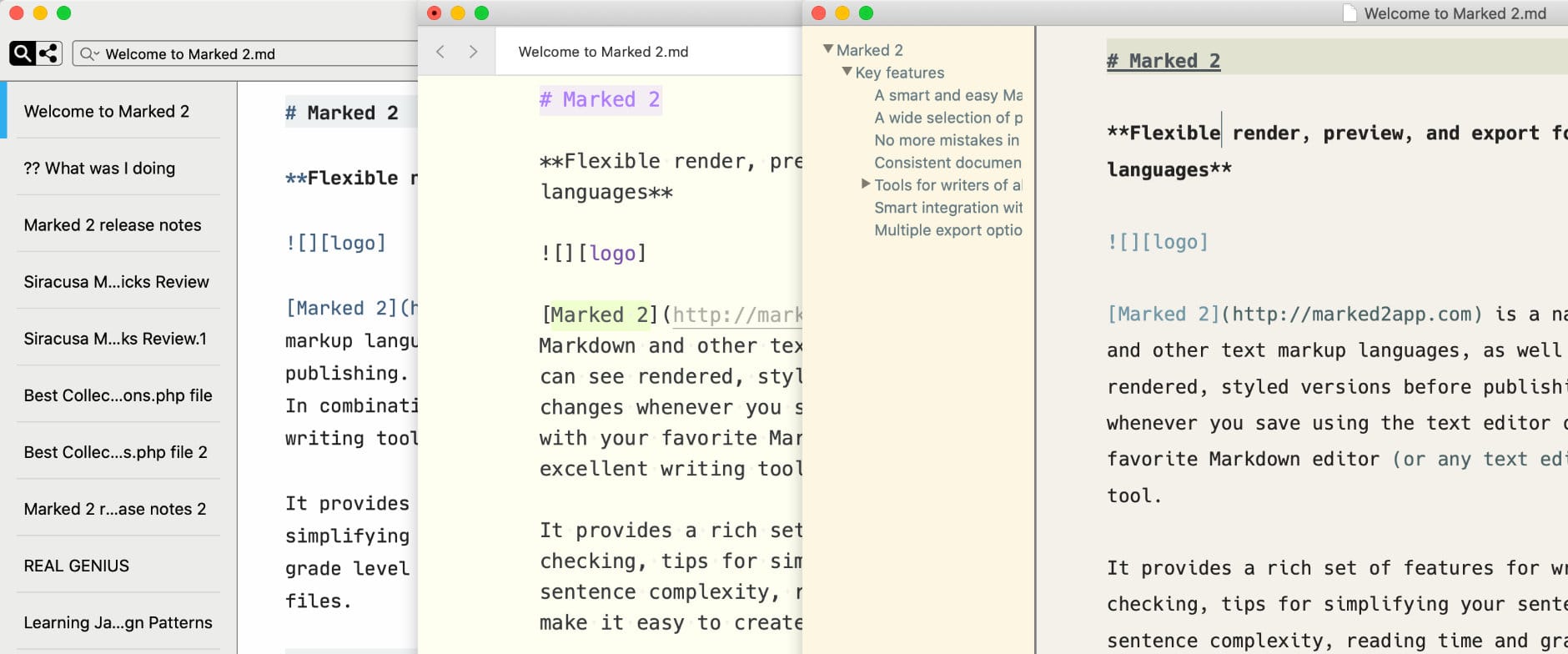 Marked 2 is a writing app that shows you all the words you can do without in your text.
Once this is done, you can make the suggested changes in the CSS themes and preview them to see what they look like.
This app also allows you to copy your rich texts to your email account, showing you your word count and reading time.
This can help you craft better emails and ensure that your writing is more eloquent and more to the point, saving your readers time. Copy that is too wordy is not always the easiest to read, so this online tool can help you cut down on reading times significantly.
You can also share your text on different platforms using CSS. This app is available on Mac App Store.
Practice English Grammar
Practice makes perfect.
If you want to improve your grammar and writing skills, try Practice English Grammar. 
This app gives you an excellent platform for learning and practising grammar.
The app has over 1000 questions, over 700 flashcards and numerous games that make learning English fun.
The writing app also gives you feedback every time you use it and shows you how you progress.
The app is perfect for both advanced and beginner learners. It is available on Mac App Store and Google Play.
Whether or not English is your first language, you can quickly brush up on the grammar rules you were once taught. It can also help you correct some of the most common mistakes we all make and ensure your readers aren't confused by an odd choice of tense or case.
Ginger
This is one of the most potent grammar and spelling checkers. You can use it both on desktop and mobile phones.
This app takes your writing to the next level by suggesting rephrasing your sentences using synonyms and idioms.
It also features a translator with 50 languages, a dictionary and a text reader, allowing you to listen to your text to see if it sounds good.
The writing app also comes with an additional feature known as Personal Trainer, which enables you to get training based on the mistakes you have made in the past.
With Ginger, you do not need an additional grammar app.
It does everything you need to do to improve your writing. You can also link it with your Gmail and social media apps, ensuring everything you post online is the best. 
Write App
Most people cannot stay away from their phones, and designers are no exception.
If you are always on your phone and regularly use it for work projects, you should consider using Write App for your writing needs.
The best thing about this app is that you can use it anytime you do not have your desktop or laptop. This means you can type on the go whenever you need to.
The app is free for desktops, but you must pay to use it on your phone. The charge is $1.99, which is relatively low compared to the rate at which most apps are charged.
You might not use this app to check your spelling or grammar, but it is advantageous when you can't write using your desktop.
English Grammar Test
As its name suggests, this app tests your grammar.
If your goal is to improve your grammar, this is a great writing tool you should consider using.
The app is straightforward to use. It shows which aspects of your grammar are wrong and provides guidelines for improving them.
It is one of the best ways to test whether you are improving your writing and grammar. The best thing about this app is that it is entirely free to download.
Therefore, you have no excuse not to use it. You can even turn it into a bit of a competition with yourself and do a couple of tests every day to ensure that you keep making progress and that your future work becomes better and error-free. 
Since it's free, you can also share it with your friends and fellow designers to make sure all of you keep progressing in your grammar and writing skills.
Other Writing Apps
To produce great content, you need to focus on your writing.
With so many distractions on our phones and computers, keeping your eyes and thoughts on the task can be challenging.
This is where an app like FocusWriter can help you. It's a straightforward tool that provides distraction-free writing on Windows and Linux. 
It will get all the unnecessary clutter out of the way and off your screen. You can easily toggle back and forth if you need to, but the best choice will always be to immerse yourself in your writing and get it done while you are most creative.
You must ensure that your content is original and not already published somewhere on the web, no matter what you write. 
The Quetext Plagiarism Checker will help you determine if something you have written is an accidental copy of someone else's work.
While you will never set out to plagiarise someone else's words, you can often unintentionally use the exact phrases. This is usually not a significant issue, but if you still want to keep your writing plagiarism-free, this tool can help.
All you have to do is paste your writing into the plagiarism checker. It will then do contextual analysis and fuzzy matching and tell you how you've scored.
If you discover that you've cited someone unintentionally, fix your writing and run another check to ensure you are good to go. 
Sometimes, the biggest challenge is sitting down and getting started with writing. This is where Write or Die can help you out. The name itself says it all.
The app allows you to set goals for your writing. Depending on your performance, it will send you incentives, reminders, or penalties. If you have completed your goal, you will be rewarded. If you have slacked off, you will be punished.
The penalties are designed to help you become more productive and speed you up. Of course, you don't have to comply, but if you need support, this online tool can provide it. 
It has a free and paid plan and is available for macOS, Windows, and Linux. 
Freedom is another online tool that can help you focus on your writing. It will block all the distracting sites and applications you keep turning to pass the time you should be writing. 
We are all guilty of checking our social media accounts too often. With Freedom, available for Android, iOS and desktop computers, you can stop getting distracted.
As a designer, you can use it to ensure you complete all your projects on time. You will no longer need to blame a game or your feed for having to work later than you originally planned.
Do you need these writing tools and apps?
The fact that you hate writing should not hinder your career growth. There are a lot of resources available to you that you can use to enhance your writing skills.
As you can see, there are many apps and online writing tools you can use to improve your writing skills.
All you have to do is select one or more of these apps and writing tools, and you will notice a difference in the quality of the content you write.
Commit to practising your writing skills, and you will be good at it before you know it.