Getting stuck in a creative rut is a terrible thing. You have an important deadline to meet, people expect great Einstein-like ideas and your mind is as blank as the notepad in front of you. So, where's the solution?
Creative inspiration is essential to fuel creative thought, I tend to think that if you're not regularly inspired by new things, your ideas become stagnant and repetitive. You'll end up producing the same generic output day after day until it gets boring and you've become simply a conveyor belt for mass-produced final products. Below are a few approaches I adopt to reinvigorate the creative thought – creative inspiration is like a medicine for the blank mind!

Proactively hunt down inspiration.
If you're working on a project involving a certain subject, maybe you're designing a website for a bakery, for example, see how other people have approached the bakery theme. Actually try going to a few bakeries to take in the surroundings and absorb detail from the experience. Maybe there's a 'standard' way of doing it that you need to rethink, maybe there's something you've missed – get on Google, Dribbble, CargoCollective, Behance and any other site that showcases great design and study how things are done. You're not looking for things to copy, you're looking for things to inspire.
Pinterest is another great site to get hit with a tonne of visual stimuli – make sure to follow a bunch of folks that update regularly with imagery and links that offer fresh mind-food!
500px and Flickr are probably the two most popular photo sharing sites currently, 500px in particular offers a ridiculously inspiring "popular" page which updates continually with images that can't fail to get the creative juices flowing.
Let creative inspiration find you.
Proactively hunting down inspiration is great, but you should always allow the world to inspire you in its own time. Go outside, absorb yourself in nature and take a camera. Take a sketchpad or notebook and doodle on the train – draw things you see out the window or people that stand out. Even if the sketch you do there and then doesn't inspire the current project, it may inspire the next.
That brings up another point, oftentimes I'll look over old sketchpads and notebooks from the past few years – it's nice to look back, but undoubtedly there'll be something there that will jumpstart a fresh thought or 'aha' moment.
Recently RSS has been somewhat 'killed' by Google, but the approach lives on through alternative providers – Feedly for example is something I refer to daily on the iPad. Subscribe to sites that provide daily inspiration, be it imagery, blog posts or even just news. If something interesting jumps out in the headlines, read up on it.
I found that a daily desk calendar, apart from being informative, offers a daily dose of inspiration. Last year, I had an illustration one that showcased a different piece of art from a new illustrator every day of the year; this year I've got one called 1,000 Places to See Before You Die – On more than one occasion I've come across a beautiful looking place that I've then researched on Google Earth and  500px. Easy inspiration.
Do a Project 365.
Talking of daily doses of creative inspiration, a Project 365 is certainly something I'd recommend to creative people to do at least once. Taking a photograph every day for a year, or doing a piece of art every day will be totally worthwhile, even if you don't make it to the end of the year – I abandoned my photo 365 around halfway, but by that stage I had accomplished my own goal of learning the basics of the camera. This year I've been doing an iPad art piece every day, only slipping up on a couple so far in 2013. It's amazing to look back over the work – the amount of inspiration you can take from your own work is always surprising, so to have 300+ a year is invaluable.
Take a break.
Most designers will spend too much time in front of a computer screen. Not much can be done about it, but taking breaks can offer more than simple eye relief. Going for a walk or simply changing your surroundings for a few minutes or hours can really help your thought process, especially allowing for a fresh mindset when you return to what you were working on. Don't forget to double up on the inspiration here – on your walk, keep a notepad in your pocket in case the poster you see on the way out of the studio sparks your imagination.
Alternatively, turn the TV on and watch something interesting, or play some games on the Xbox. Even if you're not inspired directly during this time, you'll clear your mind of the project for a bit – again, keep the pen and paper close to be sure not to miss an opportunity.
Get uncomfortable.
Leading on from the last point, getting out of you comfort zone (literally and metaphorically) can really help you raise your creative game. If you are used to working in the same office day in day out, try taking a laptop to a coffee place or park if it's warm and spend an hour or two working from there. This can actually work wonders in another way – if you remove the distraction of the internet by going somewhere where you can't connect, real focus on the work can help push new ideas. No more Facebook, no more youtubes to waste time on!
Maybe you have a specific taste in music and don't listen to anything other than the 1975-1978 era, hair-metal albums from Swedish language only bands. Maybe try dubstep for a bit? Fire up Spotify and check out some music that you'd never consider in a million years – it might not change your taste, but it may get you thinking. Personally, my music tastes are so eclectic that shuffle in iTunes is inspiration enough – however thanks to an open mind I've now started really getting into contemporary classical and minimal techno – great for working in headphones!
The point of getting out of you comfort zone is simply to give your mind a jolt. Certainly in my own experience, when I'm in a new place or travelling I try and take everything in. It's hard to say what it could inspire in future.
Books! Remember them?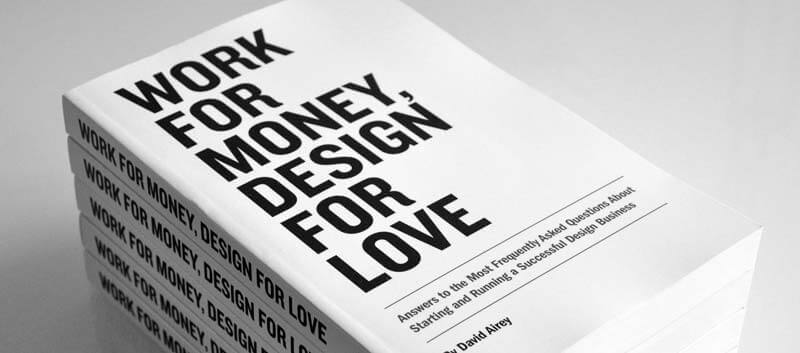 Get back to school and start reading up on books from within your industry. There are always going to be people that are better than you in the field, many of whom have written books, so take the time to learn from them and be inspired by their years of experience. There's no reason why searching for inspiration can't involve the pursuit of growth, in fact, they should go hand in hand. In my case, I've compiled a list of what I believe to be the best books for logo design which I refer to for both ideas and research of nearly every project. Spend time in book shops browsing and exploring your industry. Another, more general graphic design list is here – my recommended graphic design books to buy.
---
Everyone is inspired in different ways, reacting and seeing the world in their own way – the above is just a few specific approaches I've found work well to personally gain creative ideas.
I'd love to hear how you find inspiration when a project starts to stall, leave a comment below with how you un-stick your mind!
if you are looking for a professional graphic designer, click here to get a quote now!